It's a wrap for Vanni Oddera's Mototherapy Tour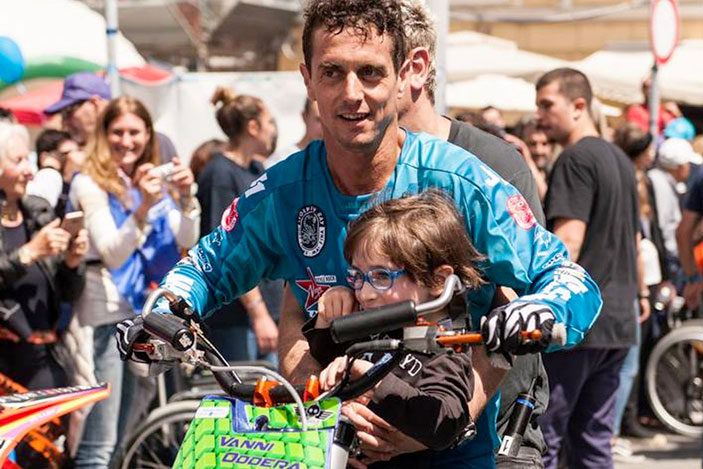 October the 10th will be the concluding date for Vanni Oddera's Mototherapy Tour. One last meeting in Genova after a long series of spectacular and thrilling events across Italy.
Vanni Oddera, born in 1980, is a freestyle motocross champion, but most of all is an altruism champion. He started to develop the idea of Mototherapy in 2008 with a specific mission: bring a smile inside hospitals, and much more.
Mototherapy events, brought to life by Vanni and other bikers, aim to thrill young people with disabilities or other illnesses through their faithful companion, the motorbike – hence the name. The exhibitions take place in special locations or outside hospitals around the world and are already engaging for the extraordinary acrobatics that take place. But these meetings give the young audience much more, when they are invited to ride the bikes with the riders and experience breathtaking moments.
Vanni also managed to bring Mototherapy directly into pediatric oncology wards, where the sight of a motocross bike always brings wonder and happiness.
We are proud to have Vanni on Autonomy's team and we support him in his mission to bring happiness and serenity to people facing hardship.