The band Pinguini Tattici Nucleari and the Paralympic athletes supporting Autonomy program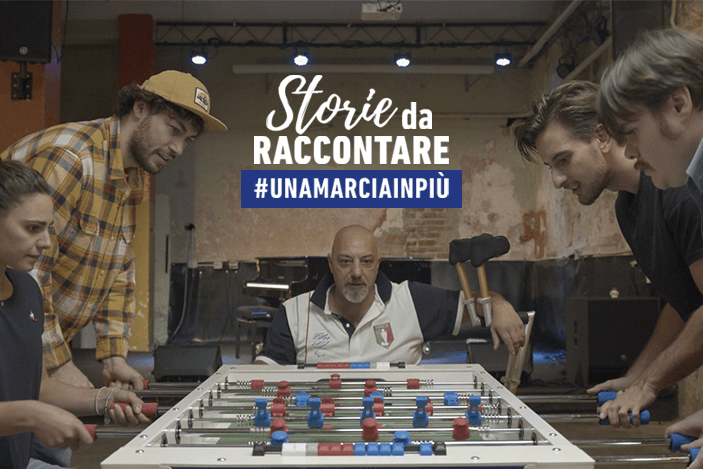 For today's International Day of Persons with Disabilities, a video will be uploaded to the Autonomy social media channels (Facebook and Instagram). It features Pinguini Tattici Nucleari ('Tactical Nuclear Penguins'), an Italian band that has joined the Autonomy project and wishes to stand up for the program designed for people with disabilities.
Alongside Pinguini Tattici Nucleari in the video are three exceptional endorsers: Giulia Ghiretti, winner of 18 international medals with the Italian national Paralympic swimming team; Arturo Mariani, mental coach, motivational speaker, and founder/captain of ASD Roma Calcio Amputati (a Rome amputee football team); Francesco Bonanno, multiple champion from the Italian national Paralympic table football team and co-founder of its Federation. The three ambassadors' respective lives give them a major point of contact with Autonomy's goals.
"Today is the International Day of Persons with Disabilities and we'd like to tell you about an experience we've had in the company of formidable people and athletes like Giulia, Arturo and Francesco. Talking with them has made us see our similarities and the points we have in common with them: music and sport often go hand in hand, both feeding on rhythm, energy, sacrifices and emotions," said Riccardo Zanotti, frontman of Pinguini Tattici Nucleari. "Just like them, we spend our lives at contests and in live performances, as well as traveling. Travel helps us to reflect, think about and work out how to overcome the obstacles we all come across in everyday life. Journeys can also be good to discover something new, or meet new people as in this case, with fascinating stories behind them: on the streets of Milan, Giulia, Arturo and Francesco showed us how there are many ways to do things we take for granted in our everyday lives, for example driving or playing table football."
Over the years, the Autonomy project has proved to be a benchmark in the world of mobility for people with disabilities. A journey of constant growth that has now taken another step forward, aimed at achieving even greater resonance, partly via social media. The action plan for the Autonomy program also includes targeted activities on these channels, including video clips made by Pinguini Tattici Nucleari and the three Ambassadors, hashtagged #onemorestep, #disabilities and #disabilityisnotinability